Alcohol Nomenclature:
Alcohols are just like other substituents. There isn't anything real special about them. I'm assuming you've read all the sections before this, so I can breeze through this section.
Molecules with alcohols are called -ols. For instance
is methanol. (methane - ane + ol = methanol).
Among alcohols, there are primary, secondary, and tertiary alcohols.


The structure on the left is the primary alcohol. Primary alcohol means that the -OH is attached to a carbon group which has NONE or ONE other carbon attached to it.
Secondary alcohols, as demonstrated by the middle structure, has an -OH group attached to a carbon which is attached to two carbons. It is also called a sec-alcohol.
Tertiary alcohols, the right structure, is an alcohol with the -OH group attached to a carbon with connections to three other carbons. Tert-alcohols, as they are called, are very bulky. The significance of these comes later on.
If you want to know how it stands in terms of functional group priority, hit this link.
---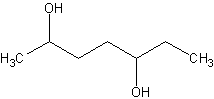 Name this
This is 2,5-heptadiol. No cis/trans becuase it's an alkane. Alkanes have free rotation.