Aldehyde Nomenclature:
The aldehyde fucntional group is a -CHO which looks like this:

The carbonyl carbon (the one connected O and H) is always carbon 1, unless there is a carboxylic acid group on the other end. Hence, the numbers aren't mentioned when mentioning aldehydes.
In order to designate a molecule as an aldehyde, you must drop the "ending" (-ane from an alkane) and add "al" (for aldehyde). Name this molecule:

That would be butanal. Now, try this one:

This would be 3-butenal. Try this one: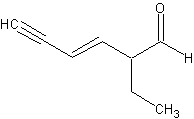 2-ethylhex3-ene-4-yne-al. That was a toughie.
When the aldehyde isn't the highest priority group, the prefix formyl- is used. Let's try this one:

This would be formylpentanoic acid. No need to number, because both the carboxylic and aldehyde functional groups are located at the end, and there are ony two ends :)
---
Cyclic Aldehydes
For cyclic aldehydes, the suffix -carbaldehyde is added to the ring name. Let's check an example:

Cyclopentanecarbaldehyde. Easy, isn't it? Remember that whatever carbon the -CHO group is on, that is carbon-1.